15 décembre 2010
I'll talk about The Facts of Maori culture :
For starters, the Maori were natives who have been civilized by the English.
the translation of the word''Maori''is:''natural''.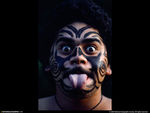 -I'll present two examples of Maori culture facts:
the traditional maori tatoo and the haka dance .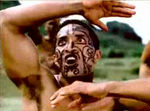 -Each tattoo on their bodies means something essential in their lives.
one day I had an interview with a New Zealander: New Zealander named paul.

interview:
-hello paul ... You are a New Zealander?
Paul:
-yes, I am a New Zealander ... Why?
me:
-I can ask you some questions? because I'm leaving on a trip to New Zealand and I need to know more about this country.
Paul :
-Is good! the new zealand is a very beautiful country. what are your questions?
me :
-what is the best : the north or south of new zealand?
Paul:
-hum ... north and south are differant because: In the South there are the glaciers, whales and the majestic peaks
while in the north, there are volcanoes,the beaches, Maori culture and culinary delights and wine !
this choice depends on you.
me:
-Okay, so I'll be Traveling In The North and South.
thank you for the information paul.
goodbye .
Paul:
-you're welcome my dear... bye-bye
| | | | | | | |
| --- | --- | --- | --- | --- | --- | --- |
| Date | Time (NZ) | No | Pool | Match details | Location | Stadium |
| Fri Sept 9 | 20:30 | 1 | A | New Zealand v Tonga | Auckland | Eden Park |
| Sat Sep 10 | 13:00 | 2 | B | Scotland v Romania | Invercargill | Rugby Park Stadium |
| Sat Sep 10 | 15:30 | 3 | D | Fiji v Namibia | Rotorua | Rotorua International Stadium |
| Sat Sep 10 | 18:00 | 4 | A | France v Japan | Auckland | North Harbour Stadium |
| Sat Sep 10 | 20:30 | 5 | B | Argentina v England | Christchurch | Stadium Christchurch |
| Sun Sep 11 | 15:30 | 6 | C | Australia v Italy | Christchurch | Stadium Christchurch |
| Sun Sep 11 | 18:00 | 7 | C | Ireland v USA | New Plymouth | Stadium Taranaki |
| Sun Sep 11 | 20:30 | 8 | D | South Africa v Wales | Wellington | Wellington Regional Stadium |
| Wed Sep 14 | 14:30 | 9 | D | Samoa v Namibia | Rotorua | Rotorua International Stadium |
| Wed Sep 14 | 17:00 | 10 | A | Tonga v Canada | Whangarei | Northland Events Centre |
| Wed Sep 14 | 19:30 | 11 | B | Scotland v Georgia | Dunedin | Carisbrook |
| Thurs Sep 15 | 19:30 | 12 | C | Russia v USA | New Plymouth | Stadium Taranaki |
| Fri Sep 16 | 20:00 | 13 | A | New Zealand v Japan | Hamilton | Waikato Stadium |
| Sat Sep 17 | 15:30 | 14 | B | Argentina v Romania | Invercargill | Rugby Park Stadium |
| Sat Sep 17 | 18:00 | 15 | D | South Africa v Fiji | Wellington | Wellington Regional Stadium |
| Sat Sep 17 | 20:30 | 16 | C | Australia v Ireland | Auckland | Eden Park |
| Sun Sep 18 | 15:30 | 17 | D | Wales v Samoa | Hamilton | Waikato Stadium |
| Sun Sep 18 | 18:00 | 18 | B | England v Georgia | Christchurch | Stadium Christchurch |
| Sun Sep 18 | 20:30 | 19 | A | France v Canada | Napier | McLean Park |
| Tues Sep 20 | 19:30 | 20 | C | Italy v Russia | Nelson | Trafalgar Park |
| Wed Sep 21 | 19:30 | 21 | A | Tonga v Japan | Whangarei | Northland Events Centre |
| Thurs Sep 22 | 20:00 | 22 | D | South Africa v Namibia | Auckland | North Harbour Stadium |
| Fri Sep 23 | 20:30 | 23 | C | Australia v USA | Wellington | Wellington Regional Stadium |
| Sat Sep 24 | 18:00 | 24 | B | England v Romania | Dunedin | Carisbrook |
| Sat Sep 24 | 20:30 | 25 | A | New Zealand v France | Auckland | Eden Park |
| Sun Sep 25 | 15:30 | 26 | D | Fiji v Samoa | Auckland | Eden Park |
| Sun Sep 25 | 18:00 | 27 | C | Ireland v Russia | Rotorua | Rotorua International Stadium |
| Sun Sep 25 | 20:30 | 28 | B | Argentina v Scotland | Christchurch | Stadium Christchurch |
| Mon Sep 26 | 19:30 | 29 | D | Wales v Namibia | New Plymouth | Stadium Taranaki |
| Tues Sep 27 | 17:00 | 30 | A | Canada v Japan | Napier | McLean Park |
| Tues Sep 27 | 19:30 | 31 | C | Italy v USA | Nelson | Trafalgar Park |
| Wed Sep 28 | 19:30 | 32 | B | Georgia v Romania | Palmerston North | Arena Manawatu |
| Fri Sep 30 | 20:30 | 33 | D | South Africa v Samoa | Auckland | North Harbour Stadium |
| Sat Oct 1 | 15:30 | 34 | C | Australia v Russia | Christchurch | Stadium Christchurch |
| Sat Oct 1 | 18:00 | 35 | A | France v Tonga | Wellington | Wellington Regional Stadium |
| Sat Oct 1 | 20:30 | 36 | B | England v Scotland | Auckland | Eden Park |
| Sun Oct 2 | 13:00 | 37 | B | Argentina v Georgia | Palmerston North | Arena Manawatu |
| Sun Oct 2 | 15:30 | 38 | A | New Zealand v Canada | Wellington | Wellington Regional Stadium |
| Sun Oct 2 | 18:00 | 39 | D | Wales v Fiji | Hamilton | Waikato Stadium |
| Sun Oct 2 | 20:30 | 40 | C | Ireland v Italy | Dunedin | Carisbrook |
| Sat Oct 8 | 18:00 | 41 | | QF1: W Pool C v RU Pool D | Wellington | Wellington Regional Stadium |
| Sat Oct 8 | 20:30 | 42 | | QF2: W Pool B v RU Pool A | Christchurch | Stadium Christchurch |
| Sun Oct 9 | 18:00 | 43 | | QF3: W Pool D v RU Pool C | Wellington | Wellington Regional Stadium |
| Sun Oct 9 | 20:30 | 44 | | QF4: W Pool A v RU Pool B | Christchurch | Stadium Christchurch |
| Sat Oct 15 | 21:00 | 45 | | SF1: W QF1 v W QF2 | Auckland | Eden Park |
| Sun Oct 16 | 21:00 | 46 | | SF2: W QF3 v W QF4 | Auckland | Eden Park |
| Fri Oct 21 | 20:30 | 47 | | Bronze Final | Auckland | Eden Park |
| Sun Oct 23 | 21:00 | 48 | | Final | Auckland | Eden Park !!!!! |
New Zealand Chosen Because It Is The Team's Most impressive for me and I like the dance of the haka ... look That Video!
The players are really impressive
In addition, the new zealand is the favorite team of RWC 2011!
RWC 2011 is happening in New Zealand